Windows 11 is a popular operating system known for its user-friendly interface and advanced features. However, sometimes, users may encounter the dreaded "Undoing Changes Made to Your Computer" error. This error message appears when Windows 11 is unable to complete an update or system change, resulting in the reversal of the changes made. In this article, we will explore various solutions to fix the issue when your computer says this error.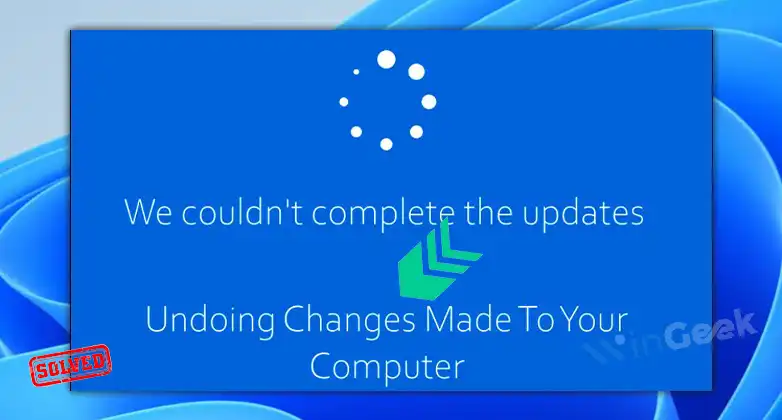 Why Does My Computer Keep Saying Windows 11 Undoing Changes Made to Your Computer?
We may infer from a user experience that a few things might cause this notification to appear. The following are at the top of the list:
Update errors: A mistake occurred during the Windows Update process, resulting in the notice "Undoing modifications made to this PC."
Unfinished processes: This typically occurs when Windows Update fails with error code 0xc1900101, but any such error might cause the same issue and halt the process.
Bad or corrupted drivers: This specific error is frequently caused by problematic drivers.
System file corruption: Typically, when important system files are corrupted, the computer may throw a variety of errors that may cause it to undo modifications.
Overprotective antivirus programs: For some people, this is the case. The antivirus is operating beyond what is necessary, which can prevent some legitimate systems from functioning properly.
The methods we provide will also work if you encounter error codes 0xC1900101 – 0x2000c, 0x20004, 0x20017, 0x40017, 0x30018, or 0x4000D. This issue is related to a large family of error codes.
How to Fix Undoing Changes to Your Computer in Windows 11?
By following the steps stated below, you can fix the undoing change issue of windows 11:
Restart your computer and try again: The easiest solution is to restart your computer and try the update or system change again. This often resolves the issue and allows the changes to be completed successfully.
Boot in Safe Mode: Booting your computer in Safe Mode can help resolve the issue as well. To do this, restart your computer and press the F8 key continuously until you see the Advanced Boot Options menu. Select Safe Mode and try the update or system change again.
Perform a System Restore: System Restore is a feature in Windows 11 that allows you to revert your system to a previous state. To use this feature, go to the Control Panel, click on System and Security, and then click on System. Click on System Protection and then select System Restore. Choose a restore point before when the error occurred and follow the on-screen instructions.
How Do I Fix Windows Update Undoing Changes?
Install updates manually: If Windows Update is undoing changes, try installing the updates manually from the Microsoft Update Catalog.
Disable third-party antivirus software: Sometimes, third-party antivirus software can interfere with Windows Updates. Try disabling the software temporarily and see if the updates can be installed successfully.
Reset Windows Update components: You can also try resetting the Windows Update components by running the Windows Update Troubleshooter or by using the DISM (Deployment Image Servicing and Management) tool.
How Much Time Does It Take to Undo Changes Made to Your Computer?
The time it takes for Windows 11 to undo changes made to your computer can vary greatly depending on the size of the changes and the speed of your computer. It can take anywhere from a few minutes to several hours.
Conclusion
In conclusion, encountering the "Undoing Changes Made to Your Computer" error in Windows 11 can be frustrating, but there are several solutions you can try to fix the issue. If all else fails, you can always consult Microsoft Support for further assistance. Hopefully, this article was helpful to you.