eGalax is an affordable touchscreen solution for computers. When properly installed and calibrated, it supports older systems like Windows XP or Windows 7 very well. However, sometimes users face issues when the touchscreen stops working all of a sudden or works for a few days after every restart. Some users even reported that their eGalax touchscreen started acting like a mouse and not a touchscreen.
So, if your eGalax touch is not working in Windows 7, you've come to the right place. in this article, we'll explain how to fix your eGalax touch in Windows 7. The following methods should work for any other versions of Windows as well.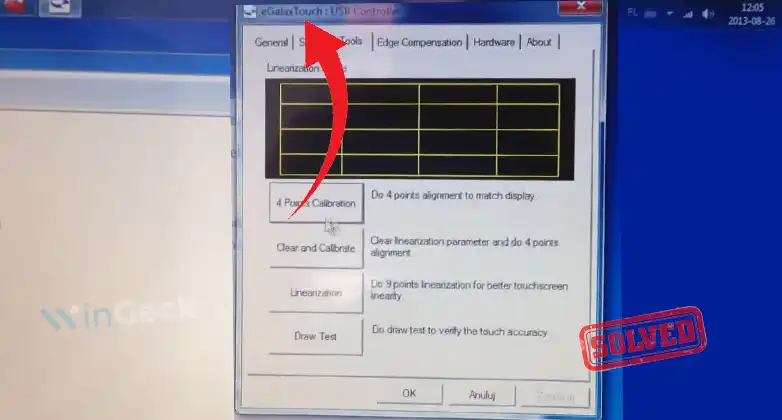 Fixing eGalax Touch Not Working in Windows 7
Depending on the version of the firmware you are on, when the eGalax touch starts acting up, it can either be a problematic update, or your firmware is too outdated. But how do you know which one's which?
1. For 3215 Series Models
If you are using models like TF3215-B1 or TF3215-B1AG, it is possible that you have become a victim of the hover calibration feature. In order to let their touchscreens work through a pen of glass, eGalax uses an auto-calibration system that requires the touchscreen to restart every 72 hours. If you don't do that, it will turn off the touch functionality. This is rather a feature and not a bug, to ensure proper and accurate touch response, even when you use it through a glass, which a lot of businesses do.
However, they have addressed the issue and fixed it with a firmware update. So, if your eGalax touch stops working after a day or two and starts working again after a restart, you need to do a firmware update. Make sure you are running the latest firmware to fix it.
2. Other eGalax Models
For eGalax models other than the 3215 series, when the touchscreen stops working, it usually is because of a faulty update which is not supported with newer systems. to fix it, you need to do a Roll Back Update from the device manager.
However, many users have reported that they are unable to find their eGalax device in the device manager after a driver update. If that's the case with you too, do a system restore to the point when your eGalax touch was working fine. Remember to disable automatic driver updates afterward. Otherwise, the issue might reappear.
3. Run Hardware and Device Troubleshooter
Windows 7 comes with a Hardware and Device Troubleshooter feature that can help you fix your eGalax touchscreen. To use it, start by clicking the Start button and opening the Control Panel. Locate the search box in the upper right corner of the Control Panel window.  Type "troubleshooter" in the search box and click on "Troubleshooting" when it appears. 
In the "Hardware and Sound" section, click on "Configure a device". If it asks you to provide an administrative password, do it. Click on "Next" to initiate the troubleshooting process. If it finds any issue with your eGalax touch or any other connected hardware, you will be prompted to "Apply this fix". Do it.
4. Disable and Reenable Your eGalax
Another fix for the eGalax touch that isn't working is to disable the hardware and reenable the hardware. To do it, locate the device in the Device Manager and select properties by right-clicking on it. Then disable it, wait for a few seconds, and enable it.
This forces Windows to recognize the device again and sometimes that's what it takes to get it to work again.
FAQs – Frequently Asked Questions and Answers
How do I calibrate my eGalax touch?
Simply open the eGalaxTouch app, which appears after you have installed the driver. Then navigate to the Tools tab and click on 4 Points Calibration. Then follow the on-screen instructions.
What is eGalax?
eGalax is a touchscreen solution for computers that support the most popular OS like Windows and Linux.
Final Thoughts
To make sure that your eGalax touch works fine all the time, keep your drivers up to date. However, when an update introduces an issue, just roll back to the previous version to get rid of it. Keep your touchscreen clean so that it can register to touch properly.