Whenever you try to access a corrupted drive, there is an error message appears on the screen that indicates, the volume does not contain the recognized file system. If you see this error message on your computer, you have already lost access to your data stored on that drive.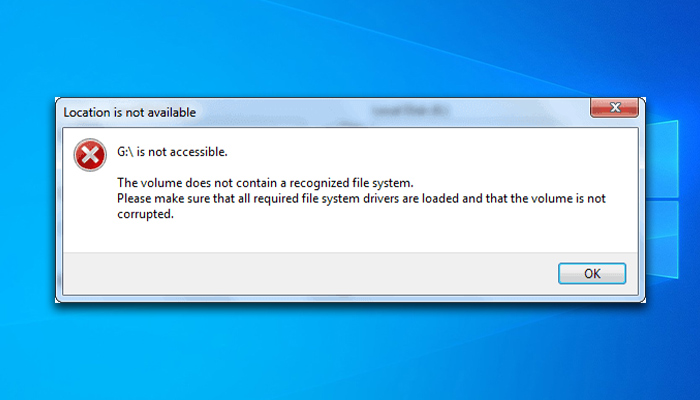 Reasons for The Volume Does Not Contain a Recognized File System Error
This type of error can be caused for many reasons, here are some reasons;
1. Corrupt or Faulty Drive
In most cases, corrupt and faulty drives are the main reason for this type of error. Drive data corruption mainly occurs for 3 issues; mechanical, electrical, and software error.
2. Drive Turned Raw
A raw drive requires formatting. You cannot use a raw drive without formatting. Whenever you try to enter a raw drive, you'll get that error message.
3. System Files Corrupted
Corruption of system files may cause this type of error in Windows OS. You need to scan all system files including directory files to regain access to your drive.
4. Bad Sectors of the Drives
The bad sector is the damaged part of a drive. Whenever you try to access the bad sector of a drive, it'll show you the error message. There are 2 kind of bad sectors, Soft bad sector, and hard bad sector.
5. Virus and Malware Infection
Viruses can make your drive inaccessible. Computer Viruses and Malware are programmed to harm your computer.  If your PC is infected by the virus and malware, you may see this type of error message on your PC screen.
6. Incompatible Hardware
If the hardware of your computer is not compatible with your OS and device, you can possibly face this type of error. For a healthy device, compatible hardware is necessary.
7. Deletion of System Files
Erasing system files may cause this type of error. When system files of your computer will be deleted, your OS cannot be able to perform normally.
How to Fix The Volume Does Not Contain a Recognized File System Error
This is a Unrecognized File System Error that can be fixed if you follow some instructions. Here are 7 fixations of this error
1. Run SFC Command
SFC is abbreviated as System File Checker. It is one of the best ways to check system files. SFC will let you know about corrupted and modified system files. It scans all system files including .dll and replaces corrupted files with a cached copy from the Windows directory. If you face an unrecognized system file error, you need to run SFC with a command prompt to fix it.
To run SFC with Command Prompt –
Type 'cmd' in the windows search bar, you can find 'Command Prompt' on suggestion. Right-click on the command prompt and select 'Run as administrator' then yes to open the command prompt.
In the command prompt, type 'sfc/scannow' and press 'enter' on your keyboard. Your computer will automatically start to scan the system files.

After completing the process, you'll see one of these four messages on your cmd window,
–        If you find windows Resource Protection did not find any integrity violations on your cmd window, this means you do not have any missing or corrupted system files on your PC.
–        You can also find windows Resource Protection could not perform the requested operation on your cmd, which means you need to perform SFC on safe mode.
–        If you see Windows Resource Protection found corrupt files and successfully repaired them and details are included in the CBS.Log %WinDir%\Logs\CBS\CBS.log on your cmd window, this message means there was some problem on your system and SFC have repaired them.
–        Windows Resource Protection found corrupt files but was unable to fix some of them, details are included in the CBS.Log %WinDir%\Logs\CBS\CBS.log this message on your cmd window means there is some issue on your PC and SFC are not able to repair.                                                                          
2. Scan Drive for Errors
Scanning the drive that contains an unrecognized file system can help you to fix the error. Whenever you scan a drive, Windows automatically removes unrecognized files or programs from that scanned drive. So, scanning the drive for error can help you to regain access to the drive.
To scan drive for error,
Find the drive with error, select and right-click on the drive to go to 'Properties'. From the 'Properties' window, go to the 'Tools' tab.
In the 'Tools' tab, you'll find an option that indicates 'This option will check the drive for file system error', click on the check from that option.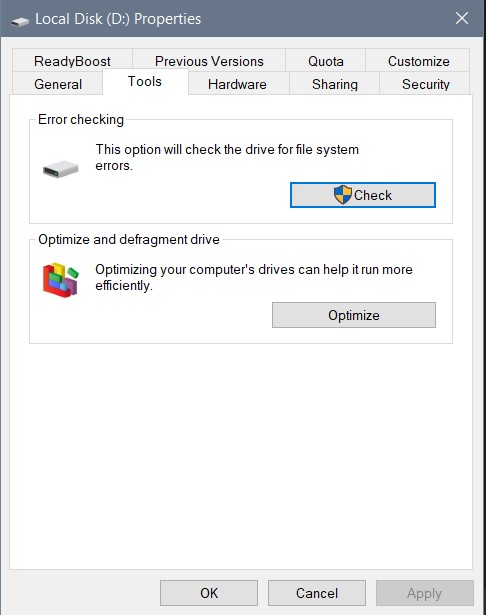 After clicking on 'Check', a confirmation window will appear, click on 'Scan drive' to start scanning for drive errors.
3. Run Check Disk Command
Running check disk is a utility tool. It scans all the file systems of a disk drive and checks all the integrity, including metadata. Check disk command can fix every logical file system errors and soft bad sector of a drive. It cannot fix the hard bad sector of a drive. Check disk plays an effective role to fix the error.
To run check disk with command prompt,
Type 'cmd' on the windows search bar and select 'Command Prompt' from the top of the search list. Right-click on it to run it as administrator.
On the command prompt window, type 'chkdsk d: /f /r /v' (Here, 'd' represents the drive letter of the specific drive that you want to scan and fix) and hit the 'enter' key. Your Windows OS will start to check and fix errors from that drive.
In the command,
/f → Fix automatically system errors of disk
/r→ Scan and recover the bad sector
/v → Display the clean-up message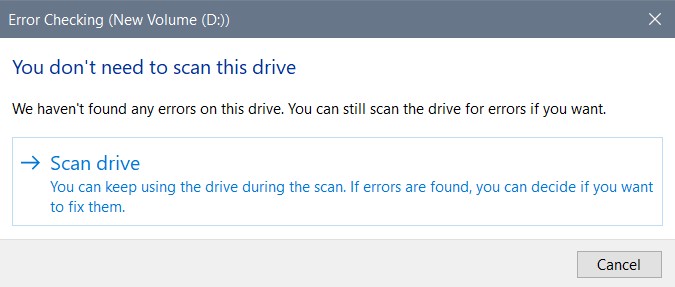 If all the 5 stages of disk checking are completed successfully, you'll see a report like below on your cmd window;
4. Format The Drive
Formatting a drive will remove all types of files, programs, and data from that drive. It will fix all the glitches of your drive, excluding hardware failure. To fix unrecognized file system errors, you can format your drive to regain access to your drive.
To format a drive,
Go to the windows search bar and type 'management', you'll find 'Computer Management' on top, click to open it.
From the 'Computer Management' window, click on 'Storage' to find the 'Disk Management' option. Click on disk management to view all the disk drives. From the drive list, right-click on the drive you want to format. Select 'Format' to open the 'format' window. Click on 'start' from the format window to perform a format. The format cannot fix the bad sectors of a drive.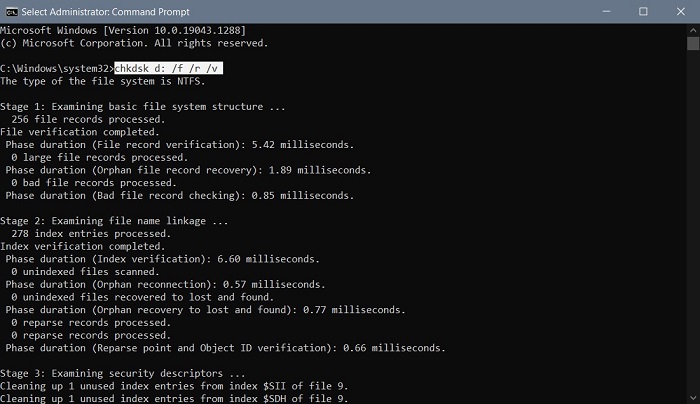 5. Replacing Incompatible Hardware with a Compatible One
Incompatible hardware may cause unrecognized system file errors. In that case, you got only one solution; replace incompatible hardware with a compatible one. Incompatible hardware decreases your PC processor speed.
6. Antivirus Scan
Sometimes, your drive could show the error message for being affected by viruses. You need to perform a premium antivirus scan to remove corrupt and suspicious files. An antivirus scan could help you to fix the error.
7. Reinstalling Operating System
If you face an unrecognized file system error for missing system files, you can reinstall the Windows OS to create system files. Sometimes, windows failed to create system files during installing OS. This can also cause an unrecognized file system error. Here you can only reinstall the OS to fix the problem.
Frequently Asked Questions (FAQ)
1. What is a computer drive?
A computer drive is a computer location that stores and reads information and data on your computer. There are two types of computer drives; HDD (Hard Disk Drive) and SSD (Solid State Drive).
2. What does antivirus software do?
Antivirus software is designed to scan, detect, quarantine, and remove malicious code, programs, and corrupt files. To protect your PC against the latest virus and malware, modern computer antivirus products update themselves automatically.
3. How to reinstall Windows 10?
You have to click on Start> Settings> Update & Security> Recovery, then click on Get Started under Reset This PC option, then click on Remove Everything to reinstall Windows 10 OS through Windows 10 OS itself.
Aftermath
The volume does not contain a recognized file system is an error that is mostly caused for missing system files and faulty drives. So, if you can identify the reason behind the error and follow the fixations, it will be easy to fix the error. It is always better to replace the damaged drive and incompatible hardware.