People have recently reported that the feature update to windows 10 version 1903 error 0x80070015 can occasionally show up on their systems. When attempting to install a completely new edition of Windows 10, you could run into this issue at times.
This error may be caused by such third-party antivirus software. There are situations when this pop-up can cause Windows Update to malfunction. Whether that's the fact, you should try resetting the factors of Windows Update and seeing if that makes a difference. This problem may also have an impact on Windows Store on rare occasions. In this article, we will discuss some fixing methods for this error code.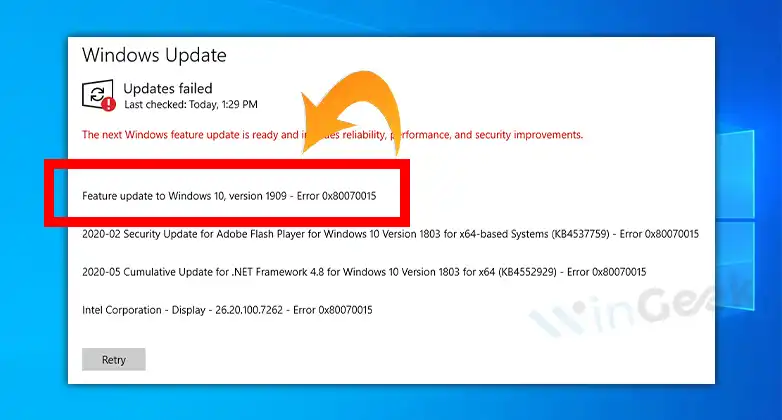 How to Fix the 'Feature Update to Windows 10 Version 1903 Error 0x80070015' Error
This error can occur due to various reasons. Here are some fixing ways to solve the issue. Go through each method if you can't find the exact reason.
Methos 1: Install the Latest Updates
Users have reported that the 0x80070015 Windows Defender error typically arises when your computer is outdated. For installing the recent updates, follow the steps below:
Step 1: Start the device's settings application. If you press the Windows key and I all together, you will directly enter the settings.
Step 2: Then, navigate to the Update & Security of the Settings app.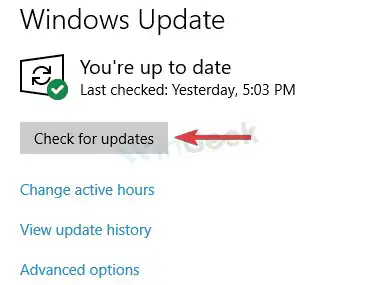 Step 3: To see if there are any updates available, hit on "Check for updates" on the right side of the window.
Step 4: Finally, all necessary updates will also be downloaded instantly without interrupting your workflow. After the updates have been downloaded, you will need to just reboot your computer to install these.
Method 2: Remove the Drives in the Custom Scan
Some customers have mentioned an issue using Custom Scan. It has been reported that the Defender would crash if a blank drive as well as a USB flash is used.
Therefore, you should disable or remove those settings. The Custom Scan needs to function normally.
Method 3: Reset Windows Update Services
Step 1: First, you have to access the Win + X menu by pressing the Windows Key + X simultaneously from your keyboard. Either Command Prompt (Admin) or PowerShell will appear in the search results; choose any one (Admin).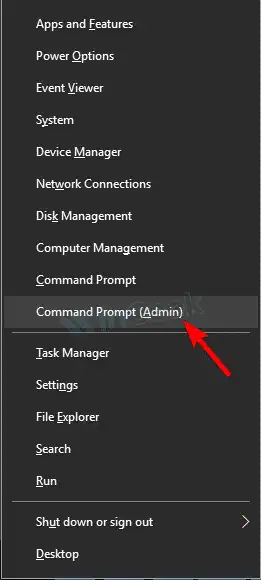 Step 2: Once the command prompt has opened, type in the commands below.
net stop wuauservnet stop cryptSvcnet stop bitsnet stop msiserverRen C:WindowsSoftwareDistribution SoftwareDistribution.oldRen C:WindowsSystem32catroot2 Catroot2.oldnet start wuauservnet start cryptSvcnet start bitsnet start msiserver

Step 3: Finally, restart the Windows Update process. The problem should be resolved after executing the above commands, which will reset Windows Update services.
Method 4: Remove Any Third-party Antivirus Software
If you're experiencing Windows Defender error number 0x80070015, it could be because you're also using an antivirus program that doesn't fit well with Windows Defender.
It is recommended that you remove or uninstall any other security software that you may have installed in addition to Windows Defender.
If you do so, you should no longer experience any issues. If you're not satisfied with Windows Defender's performance, you may always try something else.
Method 5: Rename CBS.Log File
Users have reported that issues with the CBS.Log file may trigger the Windows update error 0x80070015. For this, you have to change the name of the file. The steps are following:
Step 1: First, launch File Explorer and go to C:\WINDOWS\Logs\ CBS
Step 2: Simply find the CBS.Log file then change it to something else.
Step 3: Search the CBS.Log file, as well as rename it. This should resolve the issue. Once you've done so, see if the problem persists.
Some users have reported that they failed to change the name of this file. The following steps are required to resolve the situation, which is induced by your services:
Step 4: First, open the Services window, hit the Windows key + R, and type services.msc. To proceed, enter or hit OK.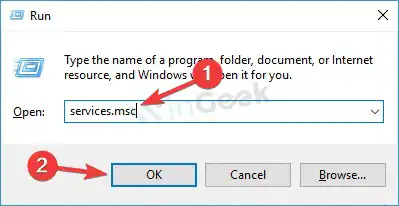 Step 5: As soon as the Services pane loads, double-click on the Windows Modules Installer service to launch it.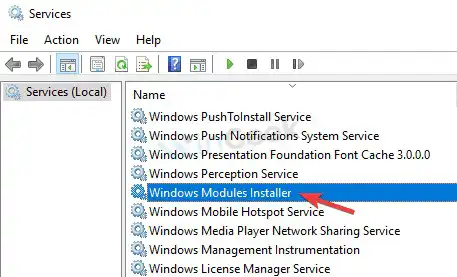 Step 6: Select "Manual" from the Startup drop-down menu, then hit "Apply" and "OK" to save your settings.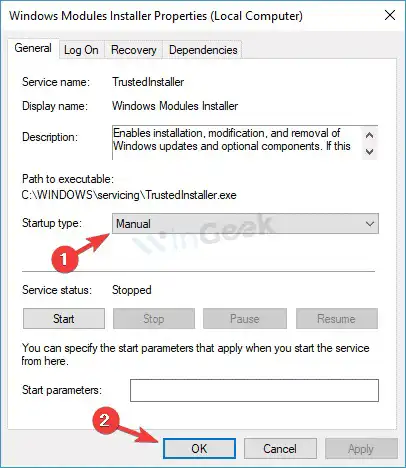 Step 7: When you're finished, your computer will need to be restarted. After the computer has restarted, you can try to change the name of the CBS.Log file.
Step 8: Finally, after the file has been renamed properly, the Windows Modules Installer service's Startup Type should be reset to Automatic.
Method 6: Repair Your System Files
The Windows Defender issue 0x80070015 could be the result of a Windows corrupted installation. However, running an SFC scan can resolve this issue.
Step 1: First, run the command prompt. You have to run it as an administrator. Type sfc /scannow into the Command Prompt when prompted.

Step 2: SFC scanning will now begin. Don't interrupt it while it's doing its thing; it could take up to 15 minutes.

However, there are situations in which even an SFC scan cannot resolve the issue. In that case, you should scan using DISM by performing the following:
In some cases, a corrupted Windows installation can cause Windows Defender error 0x80070015 error to appear. However, you can fix this problem simply by performing an SFC scan.
Step 3: Again run the Command Prompt as administrator.
Step 4: Now, type in this command:
DISM /Online /Cleanup-Image /RestoreHealth
Step 5: The DISM scan will begin in a moment. This scan may take around 20 mins, so don't interrupt at this time.
Step 6: Finally, check the system once more to see if the problem persists after running the DISM scan. 
Method 7: Create a New User Account
The user account may be at fault if you're experiencing Windows Defender error 0x80070015 on your computer; if so, you'll need to make a new account.
Step 1: In order to access your accounts, launch the Settings app.
Step 2: Choose Family & Other people from the list of options on the left. To join a new user to your computer, select the Add someone else to this PC button.
Step 3: Now, select I don't have this person's sign-in information option. Navigate to Add a user without a Microsoft account. A new account requires a username, so enter one and proceed.
Step 4: After making a new account, try using it to see whether the issue still exists. If the problem isn't repeated in your new user account, you can switch over and continue doing this in place of the old one.
Method 8: Perform a System Restore
If this problem only showed up recently, it could be because of a software update or another change you made to your computer. It is recommended that you use System Restore to resolve the issue.
Step 1: First, access to system restore, using the Windows key plus S.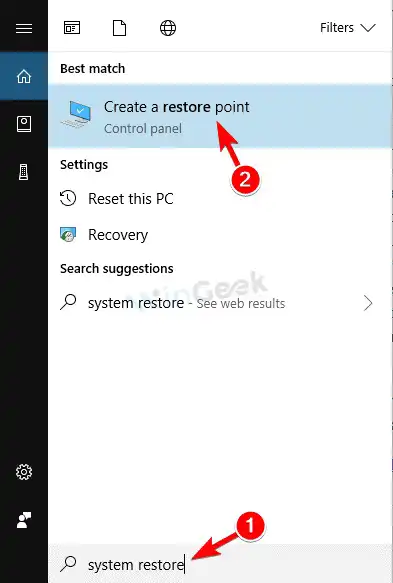 Step 2: Select the menu item "Create a restore point" to initiate the creation of a backup copy of your data.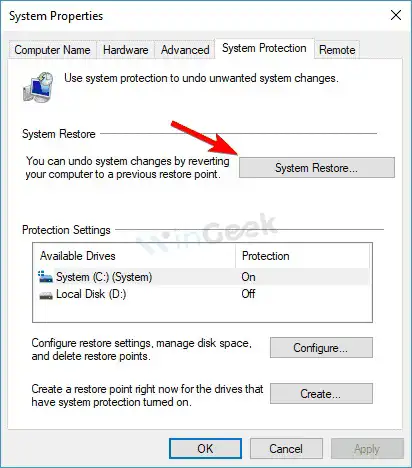 Step 3: Select the System Restore tab in the opened window of System Properties.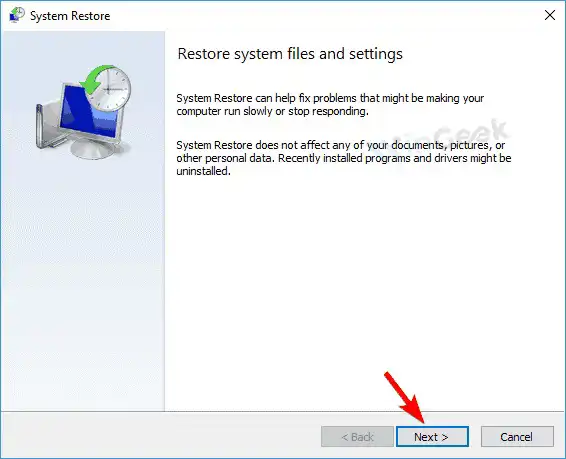 Step 4: The process of restoring the system will immediately begin. Follow the prompts by selecting Next.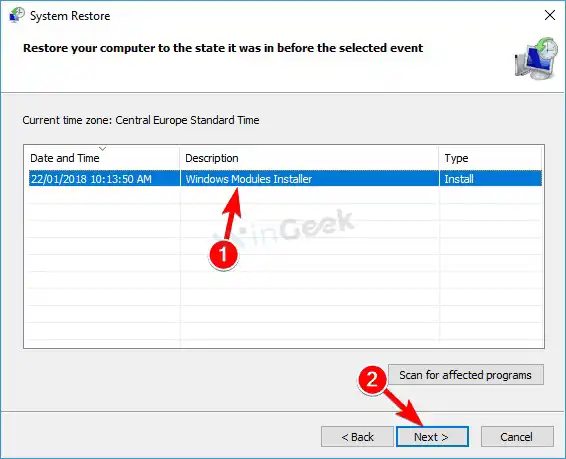 Step 6: To see other restoration points, select the option to display them if it is present. Click Next after making your selection of a restoration point.
Step 7: Finally, to finish the procedure, just follow the on-screen prompts.
Conclusion
If you see the issue 0x80070015 while installing the Windows 10 edition 1903 feature update, something went wrong during the upgrade. Causes of this issue range from faulty hardware to insufficient storage space to software incompatibilities. Delete unnecessary files, upgrade drivers, remove incompatible programs, and perform Windows Update fixer to see if it helps. A new OS installation is sometimes recommended if the issue continues.