Age of Mythology is a real-time strategy game loved by many gamers around the world. It was released on many platforms including Microsoft Windows 7. However, like every game ever, many players have faced issues with the game on Windows 7.
Normally, after installing Age of Mythology you should be able to run it right away. But if it doesn't run for some reason, you can try updating and fixing the game files, running the game as an administrator, or fixing your screen size, etc.
We will discuss these checkings and very easy fixing in detail in this article. So, without further ado, let's see how you can run Age of Mythology on Windows 7.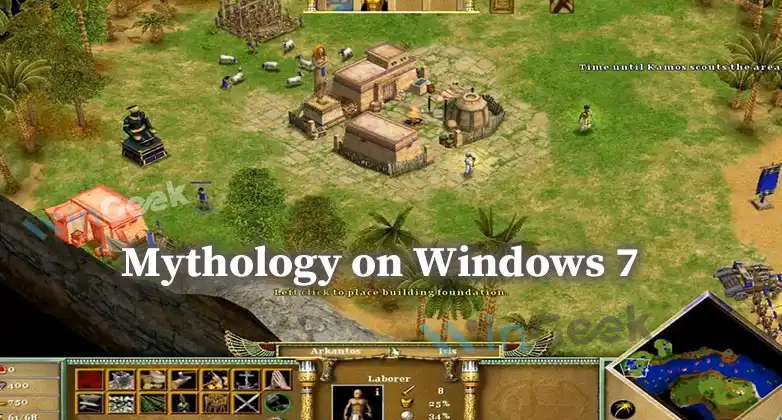 What Are the Steps to Run Age of Mythology on Windows 7 Properly
There could be several reasons why the game isn't running on your Windows 7 PC. Here are some checkings and steps to apply to fix the issue –
1. Make Sure Your PC Meets the Minimum Requirements
Before anything, you need to make sure your PC has the minimum requirements to run the game. The minimum system requirements are –
Processor: 1.6 GHz
RAM: 1GB
Graphics: DirectX 10+ Capable GPU
DirectX: Version 10
Storage: 3 GB
Sound Card: DirectX Compatible Sound Card.
Additional Notes: GPU at least (Integrated HD 3000, 8600GT, etc.)
This is what you need to run the game properly on your Windows 7 PC.
2. Fix Your Screen Size
If you have changed your screen size recently, this could cause the game to not open. The game needs to be at an ideal screen size to run properly.
If you're launching the game from steam, follow the process below –
Press ALT + Enter when launching the game to enter windowed mode. This will let you enter the game.
After that, you will need to go to the game's Settings and change the screen size.
Try setting a smaller value than the previously selected one.
This should fix the issue and you will be able to run Age of Mythology on your Windows 7 PC. If not, try the next methods.
3. Run Age of Mythology as An Administrator
An easy fix is to run the game as an administrator. This gives the game all the permissions it needs and lets you run the application. To run the game as an administrator, simply Right-click on the game's icon and choose the Run as an administrator option.
This will launch the game in administrator mode and you will be able to play the game without issues. If it doesn't launch the game, there could be issues with your game files or your PC might be having other software issues. So, try the following methods and see if it works for you.
4. Repair Game Files
Your game files can get corrupted by viruses or malware. You will need to repair your game files to continue running the game. You can repair the game files from steam by verifying the integrity of game files. Follow the steps below –
Launch Steam.
Go to your Steam Library.
Find Age of Mythology from your list of games, Right-click on it, and choose Properties.
Click on Local Files from the left panel.
Now, click on Verify integrity of game files option.
After Steam has finished scanning, try launching the game again and see if that fixed the issue.
5. Update Game
Your game version can get outdated and you will need to update the game to continue to run the game. Updating the game can also help with other issues as every update comes with various bug fixes. To update the game, simply launch Steam, go to Library, find Age of Mythology, and update it from there.
6. Restart the PC
This might seem like shallow advice, but this can actually help you run the game. Restarting the PC boots it into its default state and clears the RAM as well. Launch Age of Mythology after restarting your PC and see if it runs properly.
Frequently Asked Questions (FAQs)
Do I need a high-end GPU to run Age of Mythology on Windows 7?
No, a mid-range GPU with DirectX 10 support will serve you just fine. You will be able to run the game without issues.
Do I need any additional software to run Age of Mythology on Windows 7?
You will need to install Steam on your PC to download and install Age of Mythology. Anything except that should already be on your Windows 7 PC by default.
Conclusion
Lastly, you can try reinstalling the game. Go to the Steam app, uninstall Age of Mythology by going into your library, and then install the game again. If there is any file you're missing from the game's directory, this will fix it. We hope we were able to help you run Age of Mythology on your Windows 7 PC. If you need further assistance, please do not hesitate to contact us in the comment section.